The Convertkit Landing page challenge is back again. And in 2020 you can win 10000$
Yeah, it's 10000$!
Wait ! you don't know what is convertkit landing page challenge?
Okay, But let me first tell you
What is convertkit?
So convertkit is an Email Marketing Tool, which is made for bloggers and all types of online business owners.
And from 3 Jan 2020, they are launching a landing page challenge,
Here you only have to create a landing page and collect 100 emails.
That's it…
And you can win 10000$,
I am pretty sure, you still want to know what else you have to do to win the landing page challenge and what are the prizes.
So here it is.
How to participate in Convertkit Landing Page Challenge
Participating in the convertkit landing page challenge is very easy. And the best part of this challenge is that It is open for everyone.
Whether you are a small business owner or a big food blogger.
But there are some criteria which you have to follow to enter in this challenge.
So, here is a step by step process to participate in the landing page challenge.
#Step 1: First of all, visit the convertkit landing page registration page,
#Step 2: Create a free account by entering your Name and Email address ( don't worry! No credit card is needed )
#Step 3: Now, create your first landing page in convertkit
#Step 4: Last, Grow your email subscriber through your landing page and win prizes

Prizes for Convertkit Landing Page Winners
Till now, You are probably thinking that there is only one grand prize for one person, but you are wrong.
There are 22 chances to win prizes, based on your Email subscribers, Performance and the creativity of your Landing page.
But wait, Not all 22 people are going to win 10000$,
Here is the prize list,
1 Winner: The creators who reach 100 subscribers from their landing page are eligible to win 10000$ grand prize. And one-year free access to convertkit.
2 Winners: The creators who will reach 50 subscribers are eligible to win 1000$ prize with one-year free access of convertkit.
5 Winners: The creators who will reach 25 email subscribers will be eligible to win a free one year access of convertkit which has cost around 300$.
10 Winners: The creator who will reach 10 email subscribers will be eligible to win the Amazon Gift Card worth 50$.
So, whether you are a small creator, You can still win the prizes.
But wait,
I know you are thinking that I have only mentioned 18 chances.
Where are 4 more chances?
So here are they…
There are four more chances to win 1000$ prizes based on the involvement in the challenge.
Here are categories of winners,
3 Winners: The creators who will refer to this landing page challenge to 5 or more creators and if they create a free account during the challenge session will be eligible to win 1000$ prizes.
1 Winners: The creator who will engage and interact with the convertkit community and earn the most points during the challenge will win a 1000$ prize.
If you still want to know all the information about all the prizes and conditions, I would highly recommend you to check out the rules and regulations page.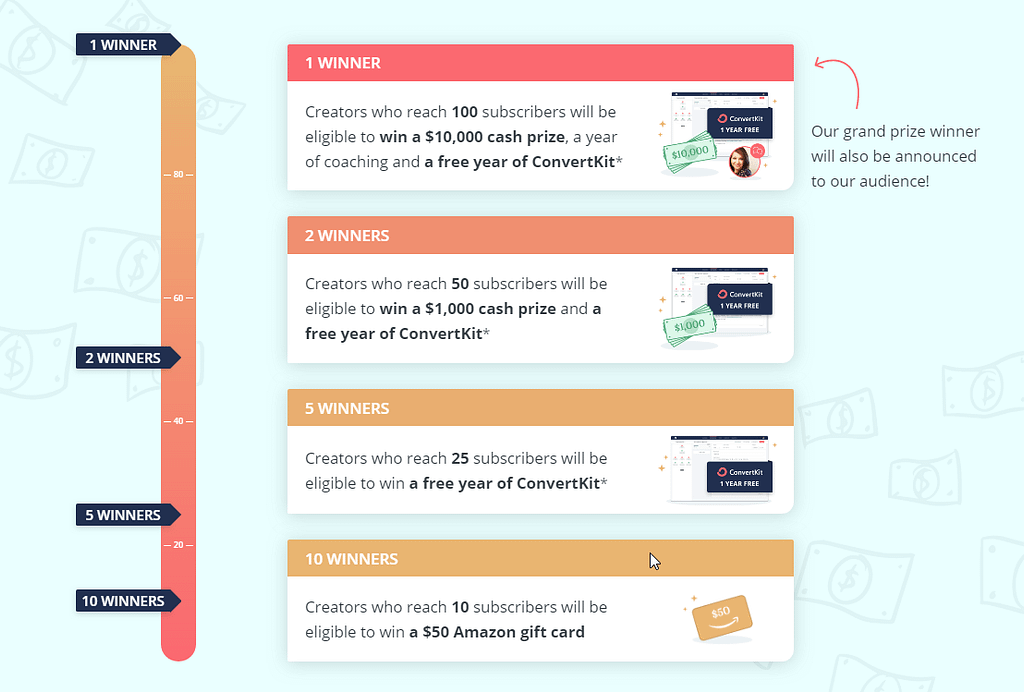 But how you are going to make a landing page which converts your readers to email subscribers.
Now here is the deal,
I am going to show you step by step actionable tips to make a high converting landing page.
6 Tips to Create a High Converting Landing Page
These step by step techniques are going you to increase the conversion of your landing pages.
And all the tips I am about to share here will be going to help you to win convertkit landing page challenge 2020.
First Serve Your Readers
If you want to convert your readers into subscribers, then you must have to provide something in return for their email address.
You have to make them win
In reality, it will be a win-win situation.
But How you make something that your readers want in return for their email?
Here is the deal,
#Step 1. Find a problem of your audience
To create something which your audience is looking for, you have to determine the core problem of your readers.
In general, if you are writing about a niche from lots of time then you will probably know, what are the pain points of your audience.
However to make sure you are making content on the right topic, Check out the Q&A platforms like Quora, Reddit.
What type of question mostly your audience is asking.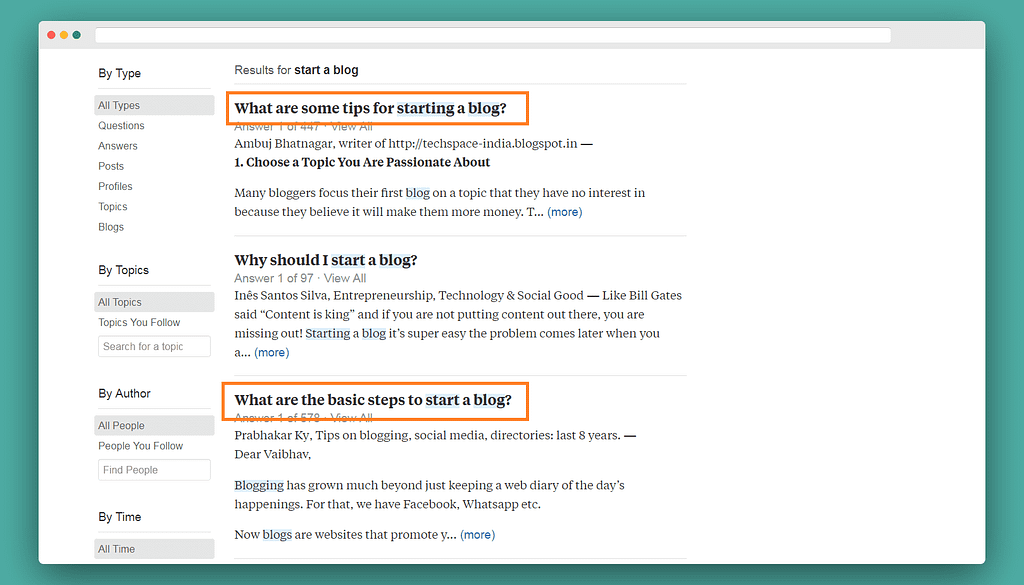 #Step 2. Create an Awesome Piece of Content
I know you guys are thinking that why they download my piece of content, there is content available on the topic.
Yeah, you are right,
If you differentiate your content from others then chances are your audience will love to download your content in return for their email.
I will recommend you to create a 10x more informative and in-depth guide than the rest of the internet have.
But try to match up the content format which is already doing well. If blog posts are doing well then you can create a PDF guide but if the video or audio format is doing well then you should create a video or audio format with 10x more detailed content.
Create a Simple Looking Design
Blogger and Business owners think that if they will add a lot of sections talking about all the features and other cool stuff then their landing page will work better.
It is not all true, I recent study shows that landing pages with less section of text convert better than the messy features sections.
But, I am not telling you that you should not add features.
You should add features in your copy but first convert those features into a benefit.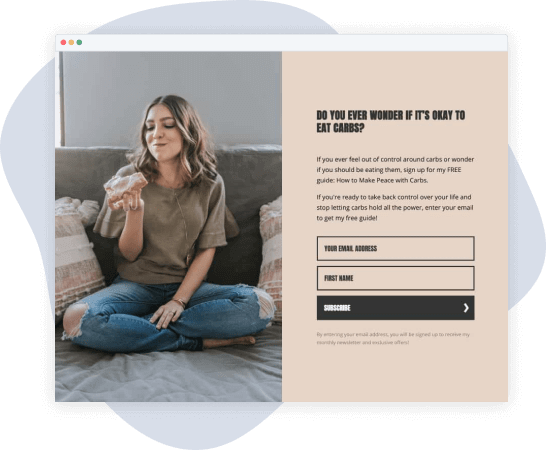 And one more thing you should also care about your branding when you are creating a landing page, for example, you should use your brand colors, logo and all the statement which describe your brand.
Hook your Readers with your Headline
Now, here is the deal
Creating a headline or copy of your landing page is very important if you want your readers to stick to your landing page.
According to research, Web readers only spend 5sec to analyze whether they will going to stick on the page or bounce off.
But what if you can hold your reader's attention to your landing page.
Yeah, You can, of course, do this by writing a creative headline.
You can check out this awesome resource for writing a killer headline
Add Relative images
Adding relative images can help you connect more with your readers.
As I have mentioned earlier the 5 sec rule.
So if you add an image on your landing page then it will attract your users to take action.
You can add images according to your topic, for example, if you are talking about personal growth planning then you can add images of your own.
Or you can add an image of your product if you are featuring a product.
Add a Clear Call To Action
Call to action is the most important element of a landing page. So if you make a killer call to action then there will be high chances of converting your users.
But how you will make a killer call to action
Here is the secret sauce by optinmonster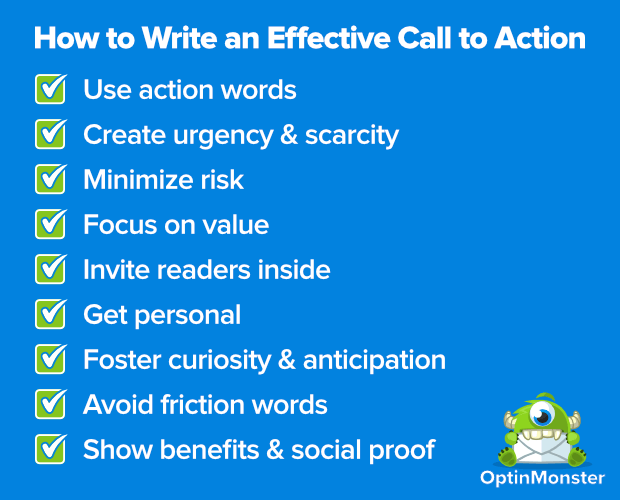 Add Social Proof
This is one thing that lots of people miss on their landing page.
Lots of big companies spending lots of time and money into collaborating with influencers of their industry. Because they know that people trust on the influencers.
And when the influencers talk about your product, it increases the trust of that product.
There are different types of social proof but, for landing pages, Testimonials and video testimonials work better.
But How, you will get testimonials of influencers.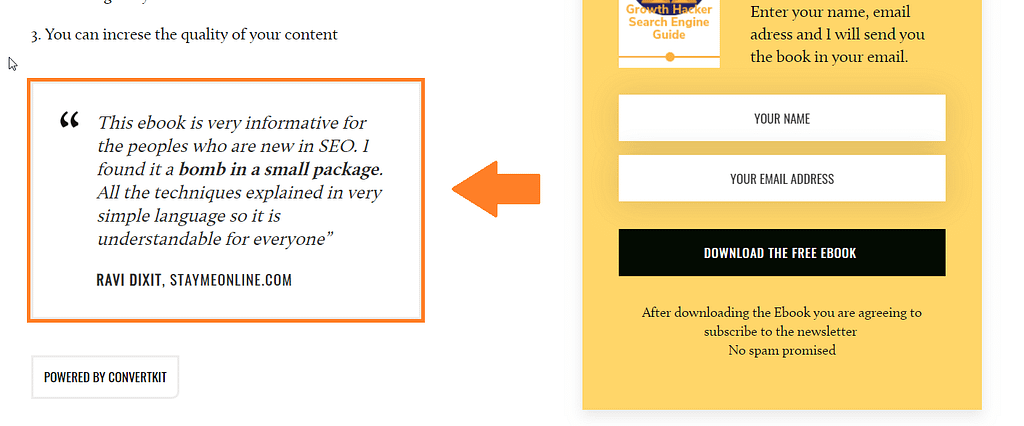 First, make a connection with them.
Then ask them to look into your product for free.
And last, gently ask for a true testimonial and feedback to improve your product.
FAQ Related ConvertKit Landing Page Challenge 2020
1. What is ConvertKit?
Convertkit is an Email marketing Software company. I can say it is a one stop solution for all your email marketing needs.
2. What are the ConvertKit landing page templates?
There are a total of 31 landing page templates to work with and all the templates are responsive to different screen sizes.
3. Is convertkit free?
No, Convertkit is a paid tool. But you can use this challenge time to use it for 30 days without any cost.
4. I'm not a ConvertKit customer. How can I join the challenge?
You can sign up for a free account of convertkit for landing page challenge. And you are almost ready to go.
5. Who can enter the contest?
Everyone can enter the landing page challenge. You don't need a subscription of convertkit to enter in the landing page challenge.
Conclusion:
If you follow these fail-proof tips, you can create an awesome landing page.
However, if you use convertkit then you can easily create a high converting landing page in ten minutes or less.
And in this month convertkit is also starting a landing page challenge, and you can win the cash prize up to $10k.
Some of the links listed below are affiliate links, So in case you make a purchase any product from my link, I will get little commission from the companies but no extra cost to you.