In this blog post, I am going to show you, How to create a resource page that makes money.
I will share with you the exact same strategies which most of the big bloggers use on their resource pages.
Before you dive deeper in this blog post, I want to invite you to join our community (Group) on Facebook, a group of friendly entrepreneurs who are ready to help each other Click here to join us.
As you already know, that resource page is one of the profitable pages of a blog as it makes a good amount of money through affiliate marketing and selling own products.
Here is the report of Pat Flynn affiliate income of a single product,

But, let me convince you little more, why you should create a high-quality resource page.
Why Tools I Use Page is important?
As you already know that resource pages can boost your affiliate sales but at the same time It can be very informative for your readers.
You are thinking, how?
Here is the deal, When someone lands on your blog and they like the design of your blog or they found your blog too fast responsive, so they want to know which tools and service you use to create your blog and what the recommendation for improvements.
This way, your resource page can be very beneficial for your blog visitors.

Now, here is the deal
Here is the step by step process to create an informative and at the same time money resource page.
---
9 Tips for Creating a Resource Page
Here is the deal, After analyzing the most profitable resource pages of expert bloggers like Pat Flynn from smart passive income, Jon Morrow from smart blogger, Darren Rowse from Problogger and more. I came to know about these secrets techniques which I am going to share with you here.
This step by step techniques will help you make more affiliate sales and help more people.
Let's dive in,
---
Tip #1: 5P Approach to the Writing Product Description
If you really care about the experience of your users then you probably don't want to add only affiliate links in your resource page. But what should you write?
Here is the deal, you should write a compelling product description that will indirectly convince users to click on your affiliate links and buy it.
But how you will do that.
Now, here the 5P approach comes into role.
Let's first break it down.
P = Identify problems which product solves
P = What is the promise of the product? (How it will solve that problem?)
P = Proof of the solution ( Anything like testimonials or recommendation)
P = Your personal experience
P = Push to take action ( Exciting CTA )
Now let's dive little deep,
In the first step, you need to identify the problems that product solves. This can be anything like if you are writing for a hosting company then describe how hosting companies are so cost-effective.

In the next step, you need to mention how your affiliate product solves the problem. In this case, describe how your hosting company provides an awesome service in a low budget.
Now, it's time to show some short of proofs which product solves. It can be anything like testimonials of the product or a simple review.
Here is the deal,
As you know, your blog readers trust you so your experience related to the product matter a lot for them. Here describe your experience of the product, show them what you like about the product and what you don't like.
Now,
Indirectly push your readers to take action. But the call to action should be exciting enough.
In this case, our CTA will be our affiliate link so wrap it under a discount offer or something like that.
You probably get the idea.
As you know the secret magic to write convincing product descriptions. Now it is your time to be creative in writing your product description.
---
Tip #2: List Products for Your Reader not for You
I have seen many bloggers only adding products that they have used. And that will be only a few products.
But from my suggestion and also other big bloggers suggest that you should also add products which you have not used yet. But you know that this product will be helpful for your readers.
For example, I have never used Aherf full version but as I know that this is an awesome product, I am actively promoting it with my reader.
And adding extra products to your resource list makes it more helpful for your readers.
How?
If you are going to mention new products then it will help readers to get introduced by new products which they are looking for.
For example, your readers are looking for an A/B testing tool and they are not finding a proper one. So if you add an awesome A/B testing tool like CrazyEgg or other then chances are high that they are going to use your recommendations.
---
Tip #3: Divide Products into Categories
If you really care about the experience of the users then you should not randomly place all the products on the list but you should create categories and add all the products according to its categories.
This will give your users a clean and organized list of awesome products.
Even some big bloggers also used this technique to provide a better experience to their reader's cum buyers.

For example, If you want to add hosting providers to your list then make a category of Web Hosting and add the products and align all the products accordingly. 
For Example, I have created a specific Web Hosting Black Friday Deal Page.
However! You can check my Tools and Resource page for more insights. 
---
Tip #4: Add Your own Products and Courses
As you know the resource page is one of the best places to earn affiliate earnings but it can also be a gold mine to sell your own products and services. In a resource page, you mostly share all the products and services which will be helpful for your readers.
So if your products or services provide value (which of course do) then you should definitely add those in your list.
For example, Pat Flynn has an awesome course about Podcasting which provides a unique value to his audience so he has added that on his resource page. And eventually, that is making money for him.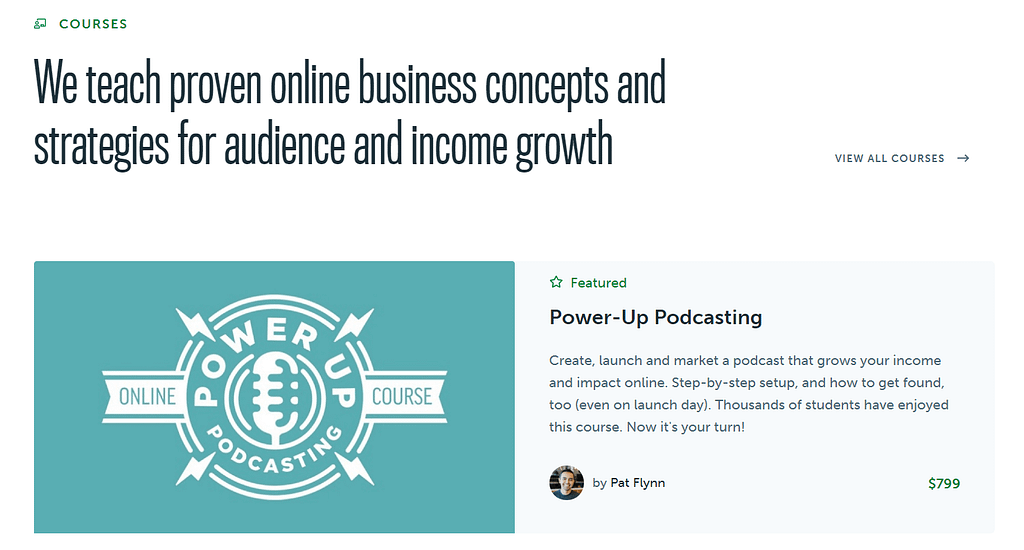 Or even you can add your blog posts in your tools and service page.
If you have created a category about email marketing and you have an advanced guide about email marketing then you should also add that post into that section.
---
Tip #5: Make a Clean and Good Design
Do you know what differentiates most money-making resource pages than others, the design of the page? If your tools and service page is filled with only links and unwanted banners then no one will be going to buy from your link.
You should have a clean and good looking design for your resource page. Which should be eye-catching and organized.
You can check out some great resource page examples.
Like Pat Flynn and Matthew Woodward.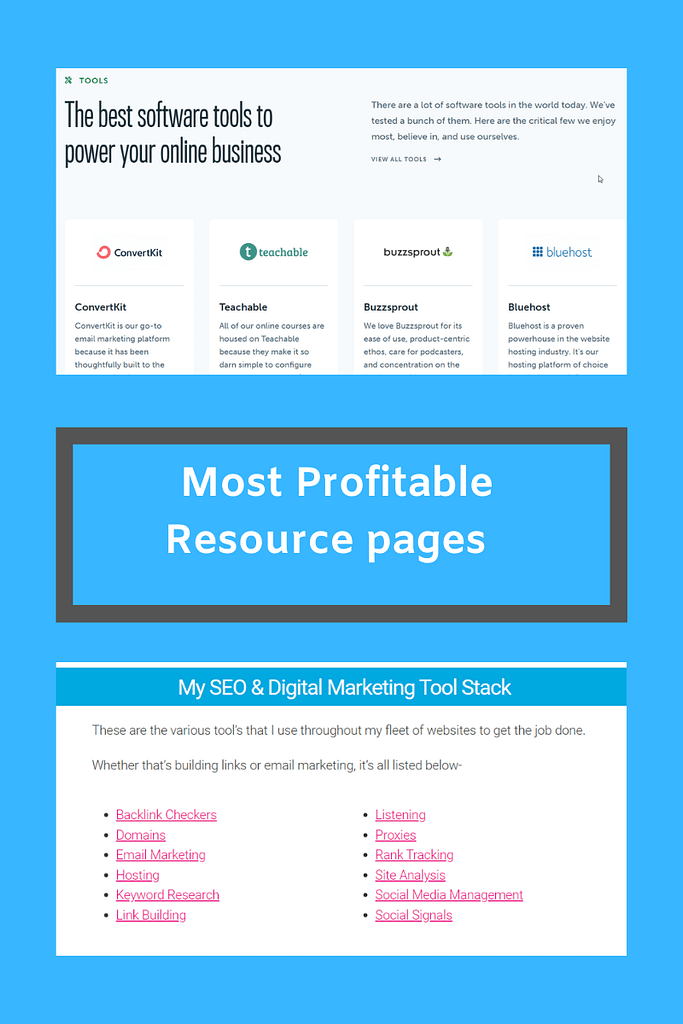 ---
Tip #6: Add Non-Affiliated Products
I know that most of the blogger's aim is to make money from their resource page and even I also have that's why I have added affiliate product links.
But pro bloggers do suggest that you should also add non-affiliated or free products in your list.
It will help you to gain some more trust from your readers.
For example, if you are talking about SEO tools then you should also mention Google Search Console which is a free but very powerful tool for SEOs.
---
Tip #7: Add Discounted Price if Possible
If your readers are checking your tools page, It means they are inspired by something in your site and they also want to add a feature on their website.
If that is a premium feature then you should help them to save their money.
And you can do that by adding offers or discounted prices.
You can ask the affiliate product provider to make a discount for your reader.
If they provide you some discount then,
It will be an awesome deal for your readers.
---
Tip #8: Track and Simplify your Affiliate Links
Do you want to know why your affiliate product links don't have a higher CTR?
Here is the truth…
Because your links are not pretty, most of the affiliate links look like spammy links.
And by cloaking your affiliate links you can make your affiliate links prettier.
For example, here are two affiliate links below but which one you mostly link to click?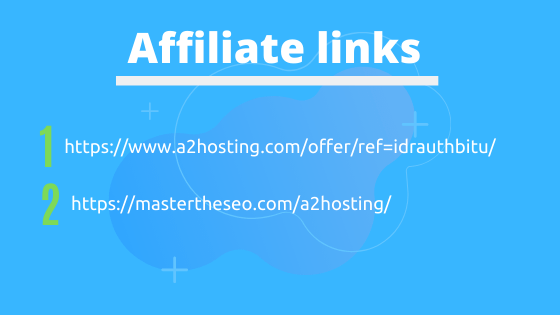 In my case, I will click the second link because it is not looking spammy like the first one and your readers can actually see which products, you are recommending.
You can simplify your affiliate links by custom redirection methods.
But I will highly suggest you install a WordPress plugin like Thirsty Affiliate Or Pretty Links.
This will also allow you to track the click of your links or you can also use Google Analytics to track your links.
This simple tweak can really boost your conversion.
---
Tip #9: Write Affiliate Disclaimer
Do you know, Why your readers buy from you because they trust you and this the golden tip to increase the trust of your readers on you?
And even big bloggers do add Affiliate Disclosure to pages not only resource page but also the pages they have added an affiliate link.
This is how an Affiliate Disclaimer looks like.

By only doing this simple step you can boost your trust signals.
And, one more important thing
According to FTC (Federal Trade Commission USA), if you are trying to sell something to your readers then you have to make them aware by writing an affiliate disclaimer.
---
FAQs About Tools and Resource Page
1. FAQs about Tools and Resource Page
A resource page a list of all the helpful links in a certain topic. For example, a health and fitness blogger has listed all the exercises related to belly fat, is a resource page.
2. How to make a resource page?
Just create a simple page in your CMS like WordPress, Then list out all the important products, service or articles with the links on your page.
Here you go you have created a resource page.
3. What does a resource page look like?
The resource page looks like a list post where you give details about helpful resources.
You can check my resource page for more information.
4. Resource page design inspiration
You can take resource page design inspiration from big bloggers and marketers like Pat Flynn and Matthew Woodward.
---
Conclusion: As you know the secrets for creating a high profitable, Apply these tips and techniques to your resource page and you would also make money from your resource page.
But first let me know which technique you are going to implement in your blog.
Are you going to write a compelling product description using 5P approach or you are going to add your own products and services?